Capa and Taro lived, loved and died on the frontline, becoming the most famous war photographers of their time. Sean O'Hagan explores their real relationship.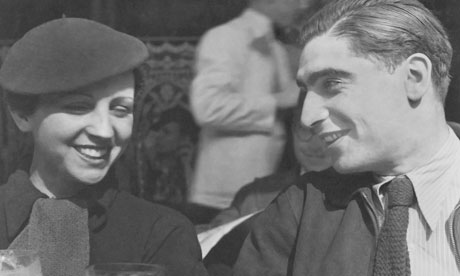 The first anyone else heard of Robert Capa was when the couple turned up at the offices of Alliance Photo and announced they had discovered a famous American photographer of that name. The pair soon found they could sell photographs attributed to the fictitious Capa to French photographic agencies for three times the price of Friedmann's, such was the status accorded visiting American photographers. Their joint ruse was soon discovered, but the pseudonyms remained in place. In her essay for the exhibition catalogue Gerda Taro: Archive, published in 2007, Irme Schaber notes: "Taro and Capa were not merely reacting to their precarious economic situation. They were responding as well to the antisemitism of Germany and the increasing antipathy towards foreigners in France. And to elude the stigma attached to being refugees, they spurned every ethnic or religious label."
If their joint self-reinvention was the first significant factor in the dramatic trajectory of Robert Capa and Gerda Taro, the second was their decision to go together to Spain in 1936 to cover the republican resistance to Franco's fascist rebels. Like many writers and artists, including George Orwell and André Malraux, they went there out of political conviction and scorned any notion of journalistic detachment. The fight against fascism was, in a very real and personal way, their fight, given their history as exiles and refugees, and the Spanish civil war was the literal and metaphorical frontline of that battle.