The 2005 article by Paul Gravett is a good introduction to Keiji Nakazawa, his art and politics.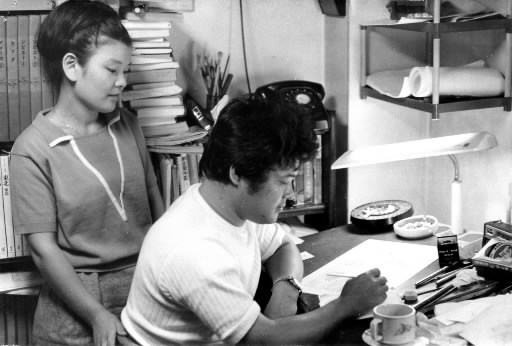 Keiji created the character Gen Nakoaka as his largely identical alter ego and through him accurately recounts his experiences in Hadashi No Gen, or Barefoot Gen. It became a huge hit when it was serialised from 1972. It's amazing to think that such a sensitive topic could be published in a comic for boys. Considering his outspoken criticism of Japan's militarist regime and wartime propaganda, Keiji felt sure he would be the target of hate mail or threats, but he recalls, "Gen only got praise. Even the right-wingers cried when they read it!" Barefoot Gen went on to appear in other magazines accumulating ten volumes of over 200 pages each, and has been adapted into anime and live action movies, a musical and an opera.
Its powerful anti-nuclear and anti-war message, which were more overtly critical of the Japanese than of the Americans, led to it becoming the first book-length manga to be translated into English in 1978 by the small Tokyo-based non-profit volunteer group Project Gen. Two years earlier, several Japanese peace activists had joined a Transcontinental Walk for Peace from coast to coast across America. En route, they showed American marchers a copy of the Japanese book of Barefoot Gen, who urged them to put it into English. Back in Japan, they set to work and eventually translated the first four volumes.
Click to read more on paulgravett.com
Image credit:Hiroshima Peace Media Center